With a highflying career at an investment bank, a happy relationship and a comfortable life, what drove Ania Lichota to want to climb the highest peak on every continent?
Being an effective and authentic leader starts with knowing and mastering one's own emotions, doubts and fears.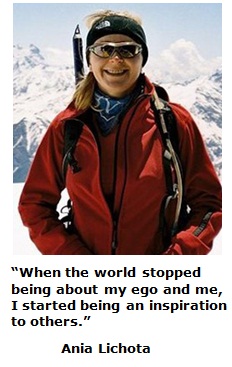 Despite two masters' degrees, a PhD, and a successful career leading global teams, it was her success in climbing the 'seven summits' – including Kilimanjaro, Aconcagua, Mount Vinson and the formidable Mount Everest - that taught Ania Lichota the real lessons of self-awareness, self-mastery and leadership. ReConnect Africa spoke to Ania about her journey, captured in her recent book, 'Why the Hell Bother?'
ReConnect Africa (RCA): Can you tell us a bit about yourself?
Ania Lichota: I was born in deep communism in Poland. In 1996 I got a place at the London School of Economics and left home with one bag on a bus bound for a foreign land. That started an amazing professional and personal life that I would never have thought possible.
Since then, I have worked in 19 countries for MACE, General Electric and UBS Investment Bank - growing, restructuring and transforming businesses in four languages. I have visited 65 countries, I have climbed the highest peak on every continent, have built two schools in Nepal for over 300 kids, raised money for UNICEF, chaired charities and written a book. At present, I work as a coach to inspire and enable others so they can fulfil their natural potential.
RCA: When did climbing mountains become of interest to you and what inspired you to challenge yourself and attempt the seven summits?
Ania Lichota: I trekked somewhat in the Tatra Mountains in my teens, but I first heard about the Seven Summits in 2004. When I googled it, I closed my laptop and said to myself: 'This is not for me, I will never do it; this is for professional climbers only'.
After a while I went for the first three mountains, which were achievable for me. At this stage, Everest and Carstensz Pyramid were not climbable in my wildest dreams.
RCA: You speak frankly in your book about the emotional and physical difficulties that each mountain presented. Which experience would you rank as the worst during the seven expeditions?
Ania Lichota: Although there were tears, despair at times and questions like: 'What the hell am I doing on this rope hanging over an abyss instead of being a good girl and having a desk job?!" I cannot say that any of those experiences were bad. From where I stand now, I cherish every difficulty I had to overcome. They made me stronger, they helped me polish my character, they made me more aware of myself and how I relate to others, they allowed me to see how small I was living, they gave me a perspective that matured me beyond what I ever thought possible.
I remember in particular two situations which changed a lot of things for me. One was on Denali in Alaska, when I sat down from exhaustion, with frozen hands and started wailing, totally emotionally and physically broken. I did not know where to take the strength to make another step. I was shaking and sobbing aloud, tears and snot dribbling down my face whilst the guy next to me was vomiting blood. I did not know what to do and what to think.
Pushed beyond the limit of comprehending my situation rationally, my breathing slowed down. I looked around; the outstanding natural beauty overwhelmed my intellect and there were no more questions in my mind. I just started moving my legs again, small steps onwards and upwards and, to my surprise, I got to high camp.
I put my back pack down and, yes, I felt tired but very far from dying or turning around. I learned from that not to pre-judge; to trust my intuition as well as my rational brain, whichever is relevant. I learned to let go of what I know, as that is based only on past experience and does not predetermine the future and my abilities.
The other situation was on Everest. I was physically finished and the slowest person on the team. After suffering from cold, tonsillitis, hemorrhoids, and severe food poisoning on the top of the high altitude, I was cold and hearing about people dying around us. I crawled into our guide's tent feeling really weak and said, 'I don't know if I am not too weak to continue'.
The lead guide cut through my sobbing and asked: 'Did you make a decision in your head that you are turning around?' I exclaimed: 'NO!' Then he said: 'So, just keep on plodding along; given what you have been through, you are doing just fine.'
The external perspective gave me hope for a possibility of summiting. Since then, I have learned to zoom out of any situation and emotional state to see if I am limiting myself.
RCA: If you could share three things you learned about yourself as a result of this journey, what would they be?
Ania Lichota: I learned that love is a state of mind and happiness is a choice. I don't need anything to be happy right here, right now. Happiness is a natural state that we were born into. During life something changes, as in adulthood we are looking for reasons to be happy, unnecessarily. With love – if I am being loving towards others or myself - that should not change, whatever others do or say. The second thing that transformed my life was staying open for whatever happens and planning less. The more I surrender to the Universe, the more the Universe is available to me. Since these events, life has presented to me opportunities that I did not know existed – I was invited to speak at TEDx, I quit my corporate job and became a coach. After giving up on having a family, I met somebody and we are deeply in love, and I started writing my second book.
The third thing I learned that I would like to share is the notion of contribution to others. The moment I understood that the more I developed people around me and the more I make every conversation into an encounter and an opportunity to contribute to other peoples' growth, I started really growing myself. When the world stopped being about my ego and me, I started being an inspiration to others.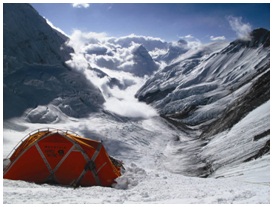 RCA: Among other things, you work today as a leadership coach. How do you think your experiences have impacted upon your work and your credibility?
Ania Lichota: With time, I have become self-less in whatever I do. Extreme adventures tuned me into an instrument – totally empty inside, no more buttons for others to push. I am able to stay totally focused on the 'other' and be with him or her to the end. I act as a mirror without judgment or hesitation, but just acknowledging what is and what is not. Thanks to that, I can connect with people on a totally new level. There are no more taboos.
RCA: Can you point to three examples of authentic leadership that you witnessed during these expeditions?
Ania Lichota: When climbing in Antarctica, everybody wanted to move up to high camp as per the previously agreed schedule. After breakfast, we were grumbling and started challenging the lead guide. The atmosphere was souring. After mid-morning snacks, Bill came out and, standing totally collected and at ease in front of a hostile looking bunch, stated: 'I know you all want to move up today. I know that you are in disagreement with my decision and the energy in our camp is not positive. However, I stand by what I said and we will move up early tomorrow. This is final; please accept it and enjoy the rest of your day. Tea, anybody?'
By acknowledging the brewing rebellion and being true to his intuition he pacified the group, turned the atmosphere around and gained tremendous respect from all of us.
On Everest, at the last stages of the summit day, I noticed that I was about to pass Scott – our lead guide. I shouted out: 'How are you? Shall I keep going ahead?' He answered: 'I feel weak and am out of breath and not sure if I will make it this year (it was to be his fifth Everest summit) but you keep going to the end; you are doing really great today, Ania.' Without hesitation, he allowed me to be 'better' then him. To outperform a person who has spent all his life in the mountains was for me like a mandate to be the best I could be.
On Aconcagua I was a total amateur and, I thought, too slow for this high altitude stuff. At some stage coming off the summit, I found myself leading the entire group. I was exhausted and spotted that my shoelaces were undone. I stopped in consternation, not wanting to take my backpack and big gloves off. The toughest guy in our group looked into my eyes, kneeled down in front of me, did my shoes up and said: 'keep going; your pace is really working for all of us.'
RCA: You say in your book that life trains us to behave in a way that is socially acceptable and that, through this, we develop 'a cult of average behaviour'. How were you able to step away from the confines of social acceptability and reach for what you wanted and needed to do for yourself?
Ania Lichota: Yes, early in life I was declared of a certain religion and political system by the country and my family traditions. I was subjected to a diet of my immediate past generations. I was sent to a certain school and family and society gave me a definition of success. Family and friends gave me a sense of beauty; what was good or bad for me was decided outside of me.
I became really successful at what others wanted me to be. However, deep down, I realised that it was not me. The moment I differentiated between me, what I really want, and the opinion of others, I started becoming myself in all walks of life. My immediate environment did not accept any of it at the beginning, but I stuck to my guns and, with time, others converted themselves, seeing how much joy I had. Yes, this stuff is contagious - so beware!
RCA: Some people will see you as immensely courageous, while others might consider you foolhardy in taking on such risky ventures. How do you respond to these viewpoints?
Ania Lichota: Well, what is safe? Sitting at home on the sofa, perhaps? However that is not living, and I have zest and passion to be alive every second.
RCA: What do you hope people will gain as a result of reading 'Why the Hell Bother'?
Ania Lichota: Inspiration to try things out, to go for their dreams whatever they are; motivation and determination to keep going, despite it all. Freedom to consider what is possible.
RCA: How can readers buy a copy of your book?
Ania Lichota: 'Why the Hell Bother? How climbing the Seven Summits changed my life' is available at Amazon, on Kindle and on ITunes.